San Diego Exhibit




Ground floor, north-east wing gallery and Second floor, north and west wing gallery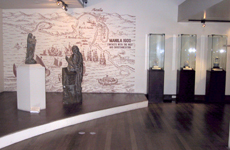 Start with the exhibit gallery on the ground floor showing the wreck site and eleven of the recovered cannons.

Your journey continues with the Exhibit Gallery II on the second floor. From here trace the history of this Spanish battleship when it clashed with the Dutch ship Mauritius on December 14, 1600 just off Manila Bay where it sank bringing down countless artifacts represented on display… such as ceramics, coins, potteries, jewelries, armaments and other numerous objects.

Find the ancient navigational instrument and the book that contains the historical account of the San Diego, "Sucesos de las Islas Filipinas", written by Antonio de Morga, the commander of the fatefull ship.

Along the gangway, see for yourself the full sized cannons and helmets used by the Spanish soldiers 400 years ago. On display down the flatform are some of the armaments.


Ceramics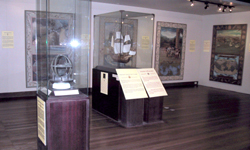 As you continue with your journey to the Exhibit Gallery III take a look at the big Martaban, Spanish and Siamese jars that contained the provisions for the passengers of the ship consisting of preserved fruits, sardines, salted meat, wine, vinegar and drinking water.

Discover also the variety of forms of the blue-and-white porcelain with designs described to be of Buddhist and Taoist luck symbols, the different shapes and sizes of plates and ewers.


The Captain's Table and Devotional Objects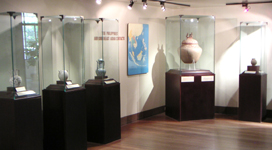 Objects made of gold, a mound of coins and silver plates constitute the treasure recovered from the sunken ship.

Among the remarkable items recovered are the gold belt, a necklace chain and a rosary with ivory beads and an inverted cross.

Plates, bowls, cups and bottles recovered from the San Diego were mostly decorated with birds, cocks, geese & deers designs which were popular during the 16th century.