FORT PILAR BRANCH MUSEUM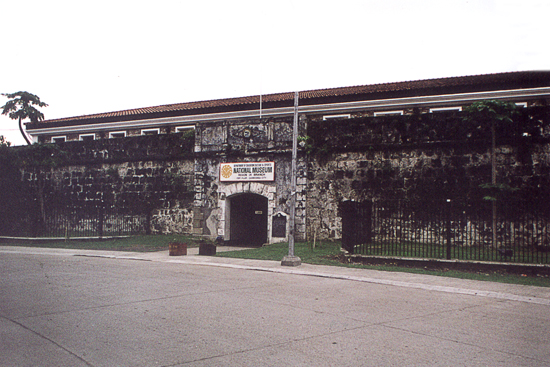 Brief History
The establishment of a museum branch in Zamboanga City was made possible by Presidential Decree 260 declaring Fort Pilar as a National Cultural Treasure on August 1,1973. Situated within the historic Fort Pilar, the museum is named in honor of Nuestra Señora del Pilar, patroness of Zamboanga. Zamboanga City is the most important city of Zamboanga del Sur, one of the three provinces in Western Mindanao.

Fr. Melchor de Vera, a Jesuit missionary engineer who accompanied Captain Juan de Chaves on April 6, 1635 with 1,000 Visayans and 300 Spaniards as they landed in Zamboanga, started the construction of Fort Pilar on June 23, 1635. Fort Pilar, Father De Vera's masterpiece, was abandoned in 1663, rebuilt in 1718, and was for centuries a defense against Muslim, Dutch, Portuguese and British attacks. It was in disrepair after World War II until it was restored by the National Museum.
The restoration and reconstruction of the three structures inside the fort started in the early part of 1980. After six years of rehabilitation work, the museum branch opened its door to the public with a special exhibit on Philippine Contemporary Art. In October 1987, the permanent exhibit on the Marine Life of Zamboanga, Basilan and Sulu was opened at the second floor of Structure II showing 400 species of marine life specimens in giant dioramas. Simultaneously opened was a special exhibit on the 18th Century Relics from the Griffin Shipwreck at the ground floor, which coincided with the formal inauguration of the structure. Then former congresswoman and Zamboanga City Mayor Maria Clara Lobregat, one of the staunch supporters of Fort Pilar Museum, and the civic-minded residents of the city greatly contributed to the realization of development projects in the museum.
---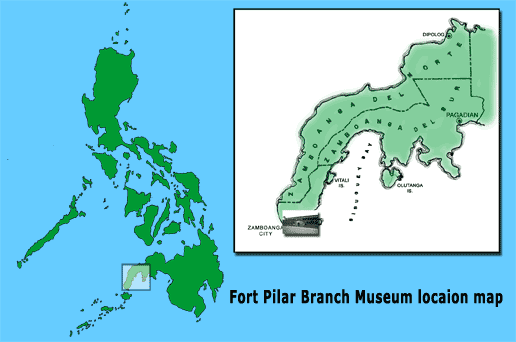 Location
National Museum, Fort Pilar Branch, Fort Pilar, Zamboanga City
Region IX
Category/Type of Museum: General



---
Collections
Ethnographic materials of Yakan, Subanun, and Sama: colorful blankets and clothes, hats, back-strap weaving loom; model house of Subanun; model of the buklugan ritual flatform, musical instruments; houseboats, fishing tools and household items.

Dioramas of archaeological excavations of the Griffin shipwreck

Walk-in exhibit complete with lights and sounds representing the terrestrial fauna of Mindanao in their specific habitats

Jardin de Mariposa, a photographic exhibit, showing the life cycle of the butterfly. Butterfly garden that houses live butterflies indigenous to Zamboanga

Geological collection showing the geological periods of the Philippines and Zamboanga Peninsula: metallic and non-metallic minerals, fossil plants, shells and coal.

Fan made of bones that can be partitioned into two separate folding fans. Both sides of the bone stems depict a Chinese landscape while the plumes are decorated on one side with exotic individuals perched on chiseled plaques.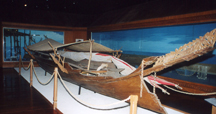 Highlights of Exhibition
Lepa is a houseboat of the Sama D'Laut better known as Badjau, a sea-faring people based in Sitangkai, Tawi-tawi, and Bongao. This houseboat is complete with living quarters where the family's food and water storage area are located near the stern. Items like cooking pots, coconut shell ladles, water jug, fishing tools and implements complete the accessories in the boat.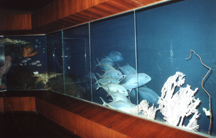 ---
Location, Museum Hours & Contact No.
National Museum, Fort Pilar Branch, Fort Pilar, Zamboanga City
By air through three commercial airlines (Philippine Airlines, Air Philippines, Cebu Pacific) that maintain regular flights to Zamboanga City. By sea, regular ferry services are available to and from Manila, Cebu and a number of other ports, to Zamboanga City and Pagadian City.
Mondays-Fridays / 9:00 am - 4:00 pm;

Saturdays, Sundays and holidays by appointment
Contact No.
ASBMD, National Museum Central Office; 527-4192



---
taken from the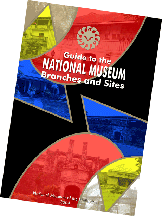 "Guide to the NATIONAL MUSEUM Branches and Sites"