Archaeological Treasures




Kaban ng Lahi

3rd floor, north-east wing gallery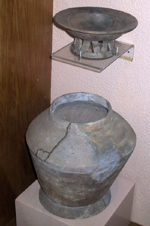 The Archaeological Treasures Gallery portrays secondary burial jar collections as well as samples of other utilitarian vessels unearthed from different cave sites in the Philippines. It also features the importance of burial practices associated with the death of early Filipinos in the southern Philippines and other parts of the country. One of these practices is the secondary burial of the dead person which involves treatment and re-burial of the bones after the corpse had decomposed. The process include cleaning, painting or treating of the bones known as "bone washing". The practice of secondary burial always involved a ritual ceremony.

Highlights of this gallery are the unique anthropomorphic burial jars made of earthenware with design and form of human figures recovered in Ayub cave in Maitum, Saranggani (formerly South Cotabato) in 1991 by the National Museum. It has been found to be of the Metal Age period that dates from 500 B.C. to 370 A.D. Here, the head-shaped covers are of three types consisting of plain; with perforations; and those with different facial expressions. Another secondary burial jar in this collections has a shape of a human male torso, measuring about 43.5 cm in height and 36 cm in diameter with arms extended forward. These types of burial jars are not found in other burial sites in the country nor in other Asian countries.

Manunggul jar, one of the most precious jar collections is a secondary burial vessel excavated from a Neolithic burial site in Manunggul cave of Lipuun, Palawan dating from 890-710 B.C. The two prominent figures at the top handle of its cover represent the journey of the soul to the afterworld.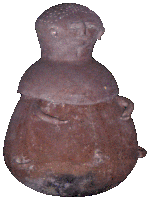 Other funerary vessels associated with the dead in this exhibit are the stone figure from Calatagan, Batangas, the wooden coffin from Banton Island in Romblon, and a unique drinking vessel with a yawning mouth from a late Neolithic site in Leta-leta cave in Palawan.