COTABATO BRANCH MUSEUM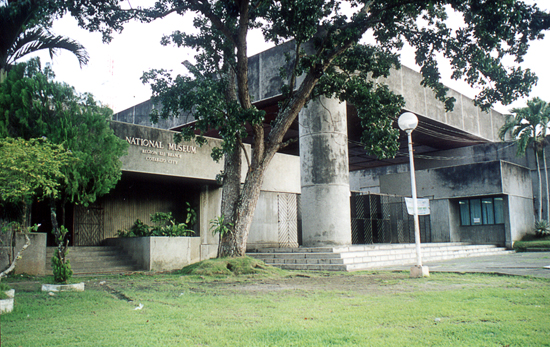 Brief History
Situated within the Autonomous Region of Muslim Mindanao compound, the branch museum in Cotabato City was established through a Memorandum of Agreement signed on April 14, 1982, between the Lupong Tagapagpaganap ng Pook, Autonomous Region XII and the National Museum, leasing the left wing of the Shariff Kabunsuan Cultural complex to the National Museum for 50 years.

On March 30, 1998, an agreement between the National Museum and the Kutawato Cultural Heritage Foundation, Inc. was executed formalizing the support of the latter by procuring artifacts on the past of the Bangsamoro people and acquisition of equipment for the branch museum. Through the hard efforts of the Foundation, traditional bed paraphernalia of the members of royalty including that of the sultan was set up and became part of the permanent exhibit.
The presence of a branch museum in Central Mindanao has greatly helped in promoting the peace efforts of the government.
---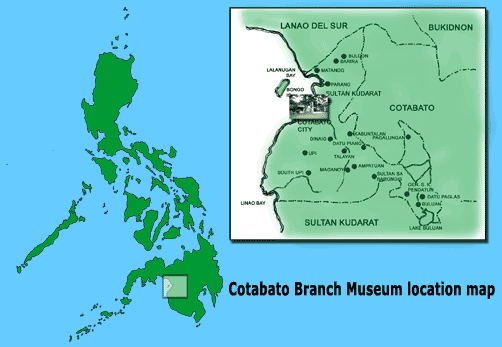 Location
National Museum, Cotabato Branch, Cotabato City
Autonomous Region of Muslim Mindanao (ARMM)
Category/Type of Museum: Ethnographic



---
Collections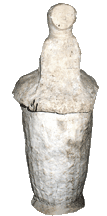 Material culture of the Manobo, Blaan, T'boli, Tirurai, and Maguindanao ethnolinguistic groups: brassware such as betel /nut and lipstick containers, brass teapots and brass ornaments; abaca and cotton tubular skirts, blouses and skirts; musical instruments such as the kulintang ensemble; head adornments such as hats of bamboo and palm leaves; basketry; weaponry such as cannons (lantaka), bolos, dagger and swords (kris/kampilan) with wooden scabbards.

Limestone burial urns
Highlights of Exhibition
Limestone burial urns were discovered inside caves of Kulaman Valley in Southern Philippines. Used in the secondary burial practice of prehistoric Filipinos, most of these urns are quadrilateral and round in cross section. The gender of the buried individual is at times determined by the anthropomorphic figure on the cover of the urn.
---
Location, Museum Hours & Contact No.
National Museum, Cotabato Branch, Cotabato City
By air. Commercial planes like Philippine Airlines and Air Philippines maintain regular flights from Manila to Cotabato City.

By sea. There are ferry connections between Cotabato City and Zamboanga, Pagadian, and Manila.
Mondays-Fridays / 9:00 am - 4:00 pm;

Saturdays, Sundays and holidays by appointment
Contact No.
ASBMD, National Museum Central Office; 527-4192



---
taken from the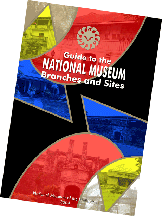 "Guide to the NATIONAL MUSEUM Branches and Sites"