MAGSINGAL BRANCH MUSEUM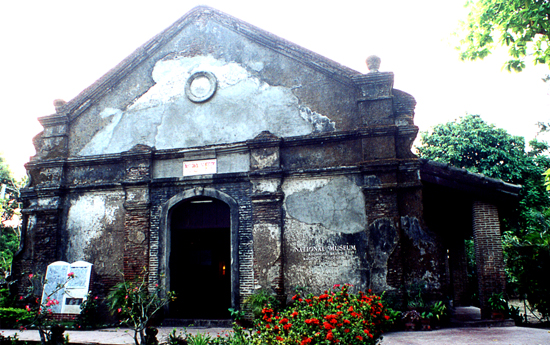 Brief History
The branch museum is situated behind a centuries-old belfry that towers magnificently over the town of Magsingal, Ilocos Sur. Magsingal was founded by the Spanish colonizer, Capt. Juan de Salcedo, who worked for the conversion of the Itnegs, the first inhabitants of the place, to Christianity.

The museum was once the rectory of the parish priest and was built simultaneously with the church in 1676. Its strong foundation of bricks, lime and stone withstood disastrous calamities like fire, typhoons and earthquakes. The old rectory was converted into a school building during the early American regime. During the Japanese occupation, the museum served as an interment for the residents of Magsingal when a Japanese captain was murdered. In 1977, then Secretary of Education Juan Manuel directed the Division School Superintendent of Ilocos Sur to vacate the building and turn it into a museum that would house the antique collections and artifacts of Magsingal.
The Magsingal branch museum is among the first branch museums established to meet the Department of Education's goal of establishing more local and regional museums all over the country. The museum stands on a 1,170 square meter lot donated by the municipality of Magsingal on October 6, 1986. It was formally opened to the public in October 1982.
---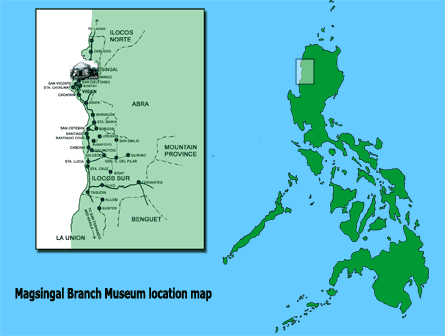 Location
National Museum, Magsingal Branch, Magsingal, Ilocos Sur
Region I
Category/Type of Museum: Ethnographic



Collections
Collection

Contemporary material culture of the Ilokano: pottery vessels in various forms and sizes; baskets; hanging flower vases; water containers; and a concrete potter's wheel.

Indigenous material culture: fish traps and containers; agricultural implements such as harvesting knives and produce baskets; musical instruments made of bamboo; wooden bowls and plates; clothes made from sinamay, the famous Ilokano cloth made of pineapple fibers; religious items such as wooden rosaries and wooden icons.
---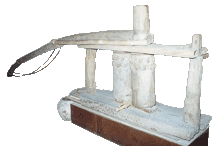 Highlights of Exhibition
Sugarcane crusher 'dadapilan' extracts juice from sugarcane stalks that are fed to the crushers which are being turned by a carabao.

Tobacco dryer. On display is a miniature form of the structure where tobacco leaves are dried. It is known as 'pugon' to the local people.

Concrete potter's wheel is a very rare item used in making large pottery jars for salted fish. These jars are locally called 'burnay'. The potter's wheel measures 105 cm in diameter.
---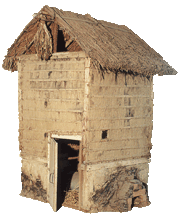 Location, Museum Hours & Contact No.
National Museum, Magsingal Branch, Magsingal, Ilocos Sur
By land. All buses on their way to the north such as Partas Trans, Maria de Leon, Dominion, Fariñas, etc. pass through the province. From Manila, it takes approximately eight hours to reach Magsingal which is about ten kilometers away from Vigan City. Ilocos Sur has no airports. The nearest airport is the Laoag International Airport in Ilocos Norte, approximately a two-hour trip from Magsingal.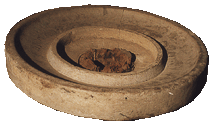 Mondays-Fridays / 9:00 am - 4:00 pm;

Saturdays, Sundays and holidays by appointment
Contact No.
ASBMD, National Museum Central Office; 527-4192



---
taken from the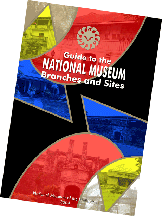 "Guide to the NATIONAL MUSEUM Branches and Sites"