BUTUAN BRANCH MUSEUM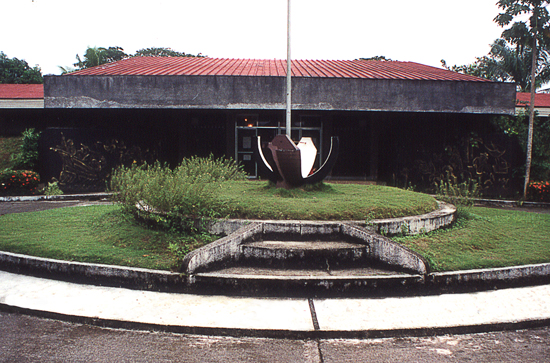 Brief History
The museum is located in Butuan City, the provincial capital of Agusan del Norte. It was established after the accidental discovery of archaeological materials by the City Engineering Office of Butuan City in 1974 while draining the water confined inside a man-made river system. Succeeding excavations conducted by the National Museum, yielded tremendous archaeological finds of collectors' value. The most significant find were the prehistoric balanghai or Butuan boats that date from 4th to 13th centuries A.D., just five kilometers from the city proper. The National Museum conducted a scientific research, sending its archaeologists and researchers at Ambangan, Libertad.
The establishment of the museum was facilitated through the support of the Butuan Museum Foundation, Inc., which was organized to assist the National Museum safeguard and preserve the rich cultural heritage of the region.

Then President Ferdinand E. Marcos authorized the release of four units of Marcos-type school buildings while the city government donated a two-hectare lot, to realize the construction of the building. After 19 months, the formal inauguration finally took place on August 30, 1978.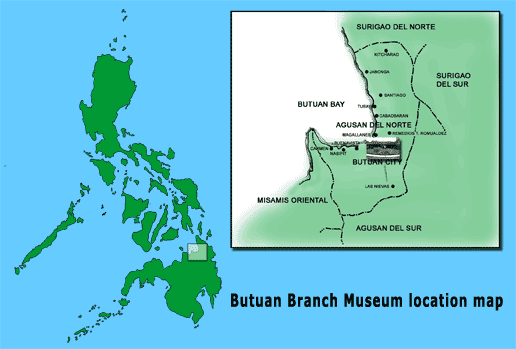 Location, Museum Hours & Contact No.
National Museum Butuan Branch, Doongan, Butuan
Region XIII
Category/Type of Museum: Ethnographic, Archaeological
By air. There are regular flights from Manila and Cebu. Philippine Airlines has daily flights to Manila and Air Philippines flies three times a week to Cebu. Butuan can also be reached by plane through Cagayan de Oro City which is 180 kms from Butuan and a four hour ride by bus. Another alternative is to fly to Davao City, a distance of about 220 kms from Butuan City and a six-hour trip by air-con bus.

By sea. Butuan has boat connections with various Visayan ports and Manila. WG & A has trips in the area. Most ships go to the port of Nasipit which is 18 kms west of Butuan City.
Mondays-Fridays / 9:00 am - 4:00 pm;
Saturdays, Sundays and holidays by appointment
Contact No.
ASBMD, National Museum Central Office; 527-4192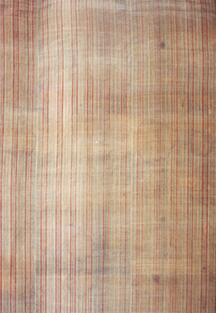 Collections
Ethnographic materials from the Higaonon, Tiruray, Mamanua and Bukidnon ethnolinguistic groups: musical instruments, agricultural tools, baskets, textiles, and personal adornments. Coffins that contain 14th –15th century materials of pottery shards and human skulls. Other excavated materials: whetstones, mortar, adze and tablet; wooden paddles; ceramic wares Body ornaments and implements made of gold, silver, lead, copper and bronze.
Highlights of Exhibition
Pakhal na habol is a traditional hand woven abaca used by the Higaonon as a sleeping blanket. It has vertical stripes of alternating color combination of dark brown and beige. The brown color is dye while beige is the natural color of abaca.

Ivory Seal (replica) circa 10th century A.D. is carved from animal tusk. The design was written in ancient Javanese script and was translated by a paleographer as But-wan. It was used to identify the place of origin of goods or communications.

The Golden Tara of Agusan (replica) is the image identified to be of Indian origin. The specimen was recovered from the left bank of Wawa River, after a storm and flood in 1917. This discovery corroborates the early Indo-Philippine Contact. The Agusan Image, with an Indian imprint, is a Buddhist image of the Sailendra period of Sri-Vijaya history (900-950 A.D.). The sculpture belongs to the Indo-Buddhist-Javanese art of this period. The original 21-carat gold figurine is presently kept at the gem room of the Chicago Field Museum of Natural History in U.S.A.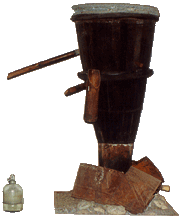 Laksoy is a popular local wine that is extracted from the sap of the nipa palm and is stored in a pottery vessel (banga) for at least two days to ferment. Longer fermentation will turn the wine into vinegar.
---
taken from the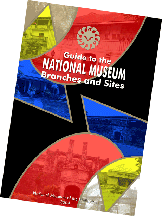 "Guide to the NATIONAL MUSEUM Branches and Sites"