Padre Burgos House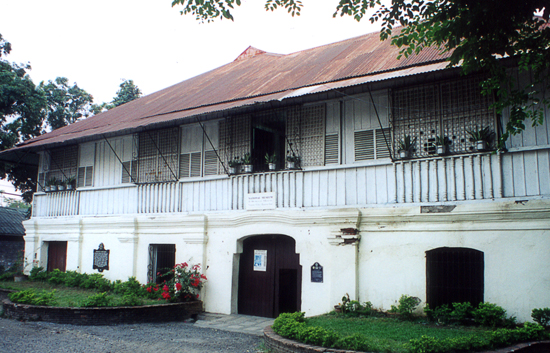 Brief History
This museum is the ancestral house and birthplace of priest patriot Fr. Jose Burgos. Known as Padre Burgos House, it is one of the notable historic structures of Vigan, the capital of the province of Ilocos Sur. It is a two-story structure located near the Provincial Capitol and close to St. Paul's Metropolitan Cathedral. It was renovated by the Filipinas Foundation, Inc. and inaugurated on May 3, 1975. In January 1989, a Contract of Lease was executed by the Ilocos Sur Historical and Cultural Foundation, Inc. leasing the memorabilia for 50 years, and turning over the administration to the National Museum.
Vigan is strategically located at the delta of Abra River and was the center of political, religious, economic, social and cultural activities in Northern Luzon for more than three centuries. This city became the hotbed of social unrest against colonial abuses. Among those who led the cause for patriotism were the Bigueños Fr. Jose Burgos, the poetess Leona Florentino, her son Isabelo de los Reyes (father of Philippine Labor Unionism) and Elpidio Quirino, the second President of the Republic.

The historic city of Vigan was inscribed as a UNESCO World Heritage Site on December 2, 1999.
---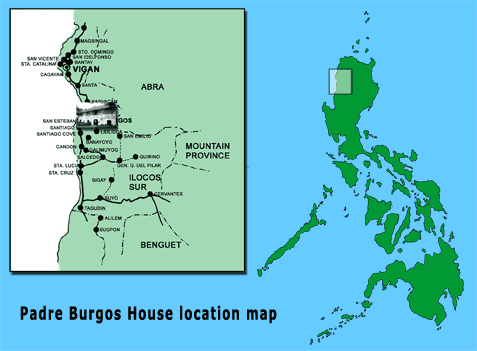 Location
National Museum, Vigan Branch,Vigan City, Ilocos Sur
Region I
Category/Type of Museum: Art, Ethnographic


---


Collections
Iloco-Kankanay-Itneg material culture: wooden plates and bowls; wooden coffins; burial chair; musical instruments such as drum (tambur), bamboo mouth flute (paldeng), and brass gong (gansa); weaponry such as shield (kalasag) and spears; weaving implements and wooden loom (pag-ablan); textiles; jars.

Trade ceramics; models of two trading vessels.

Dioramas of local historical events; photographs of individuals who contributed to the socio-cultural development and history of the region and of the Philippines.

Old books and historical records.

Memorabilia of Father Burgos and his family; period furniture pieces.

Oil paintings of the Basi Revolt of 1807 by Don Esteban Villanueva.

Liturgical collection.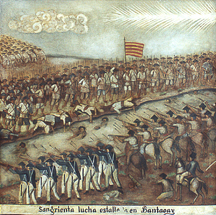 Highlights of Exhibition
The 14 Esteban Villanueva paintings of the Basi Revolt of 1807

In 14 frames, Don Esteban Villanueva, a businessman and unschooled painter from Vigan, recorded in 1821 the bloody progress of the Ilokano uprising against the Spanish government that prohibited the manufacture of 'basi' (sugarcane wine) in the Ilocos provinces. At one time, these paintings were owned by Buenaventura Bello, former president of the Ilokano Historical Association. The paintings remained unrestored until a few years ago when a contemporary artist had been commissioned to retouch them. In spite of this, the original painter's style is noticeable – details of costume and face, lack of perspective, the composition of the groups, the ominous comets, and even the little horses. The 14 oil paintings, all measuring 36 x 36 inches, was signed "E. Villanueva".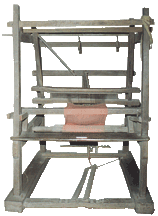 Pag-ablan is a wooden frame loom for weaving locally grown cotton. The old backstrap loom is used although the overwhelming mass of weavers now prefers the more modern spinning wheel. Foot operates the harnesses. By moving the harnesses up and down, warp threads that are drawn through consecutive heddles of each harness form a 'shed' through which the shuttle is passed. Handloom weaving became sophisticated when weavers began to use various materials, designs and colors, and became commercial. Weaving is an ancient craft among the Ilocano and a source of income for the family.

---

Location, Museum Hours & Contact No.
National Museum, Vigan Branch,
Vigan City, Ilocos Sur

By land. From Manila to Vigan is 405 kms. and approximately seven hours ride in public transportation such as Maria de Leon, Partas Trans., Dominion and Fariñas buses.

By air. Laoag International Airport is the nearest airport from Vigan City. Laoag City is 80 kms. or two hours drive away from Vigan. Mini-buses and jeepneys provide transportation from Vigan to other municipalities and neighboring provinces.
Mondays-Fridays / 9:00 am - 4:00 pm;

Saturdays, Sundays and holidays by appointment
Contact No. (075) 554-2065
ASBMD, National Museum Central Office; 527-4192



---
taken from the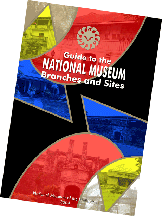 "Guide to the NATIONAL MUSEUM Branches and Sites"