Hall of National Artists for the Visual Arts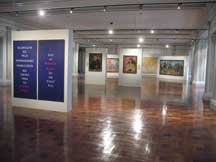 This room is dedicated to the visual artists who have been named National Artists by the government.

Proclamation 1001 was signed in 1972, bestowing posthumously the National Artist honors on the painter Fernando Amorsolo. Since then, the Cultural Center of the Philippines has administered the process of granting the highest honor conferred on artists working within the modern fine arts system. With the founding of the National Commission for Culture and the Arts in 1992, the two institutions in the field of culture would carry on the custom as decreed by law to exalt artistic achievement and its responsiveness to the contexts of history.

In 2003, the Honors Code of the Philippines elevated the National Artist homage as a Cultural Order and henceforth distinguished as the Order of National Artist, "fourth in precedence among the orders and decorations that comprise the Honors of the Philippines, and equal in rank to the Order of National Scientists and the National Living Treasures Award."